Before Ken Ferris recently joined the Pelletier Properties team, and I had the opportunity to do this interview and get to know him better, I was under the impression he was just another really nice person and fellow agent that I enjoyed seeing around the Keller-Williams office from time to time. But writing Ken Ferris off as "just another" anything would be a very big mistake.
The life of Ken Ferris (so far) is layered with family, hockey, education, career shifts, and so much more. Ken and his younger sister grew up in Valley Forge, PA. In school, he played Varsity hockey for Malvern Preparatory, and after graduating high school, he attended the University of Rhode Island for 4 years, graduating in 2009 with a B.A. in English and Minor in Aquaculture and Fisheries. (doesn't EVERYBODY have that major/minor combo?)
After working in both banking and insurance, Ken decided to take some time off to become a stay at home dad. Fast-forward a few years later, and he entered into the world of Real-Estate, and into the offices at Keller-Williams, and then, most recently, onto our Pelletier Properties team.
Here is my Exclusive Interview with the very interesting, and always very nice guy, Ken Ferris: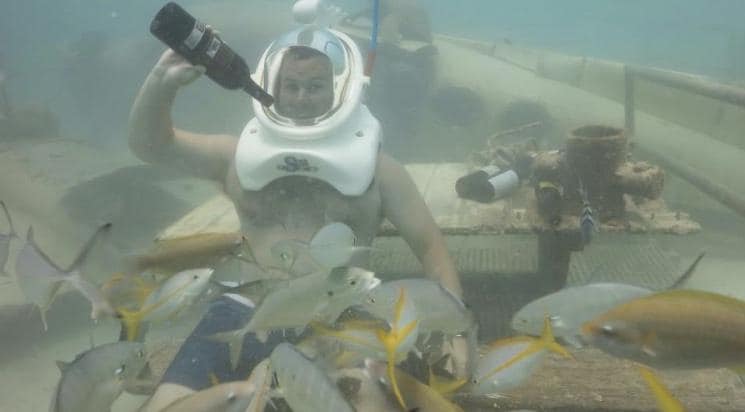 (Above: If this is Aquaculture and Fisheries, count me in!)
In doing my research and reading about you, hockey came up quite a bit. Tell me about your background and love affair with hockey.
Sure. So, I very well may have an unhealthy obsession with hockey (just ask my wife). Hockey has been a major part of my life since I was around 5 years old. My parents grew up in Buffalo, NY, where hockey is basically a religion. When I was 5, my dad took me ice-skating and I actually hated it at first because I took a huge spill and whacked my head on the ice. My dad encouraged me to get back out and try again, and I never looked back after that.
So did you follow in your parents footsteps in cheering for the hometown team (the Buffalo Sabres)?
I did. My passion for hockey started with me following and loving that team, even though I myself didnt grow up in Buffalo. I actually grew up just outside of Philadelphia in Valley Forge, PA. My dad bought a satellite dish for the TV so we could watch every Sabres game in our living room. My favorite player was Pat LaFontaine, #16 on the Sabres, and that was my jersey number all the way up through high school.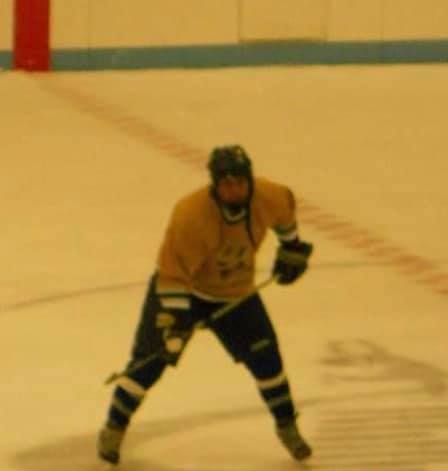 (Above: Little Ken Ferris playing hockey)
So you managed to keep playing throughout your childhood then?
Yeah, I started playing around the 2nd grade for local teams, and then upgraded to the travel leagues. It got pretty serious toward the end of Grade School and then into High School when my family was pretty much traveling on the road every weekend in a new city playing games Saturdays and Sundays. We actually missed a few holidays because of the tournaments, especially around Thanksgiving. Hockey really was a way of life for me growing up, an escape from school and everything else. I just think its such a unique sport and so different from any of the other major sports out there. Recently, I've toned down my craziness for watching the sport, only because I have a wife and two kids who now come slightly before my Sabres obsession. But it's still my true, #1 passion. Go Sabres!
Do you miss it? Playing hockey, I mean …
I do miss it sometimes, yeah. I miss playing, but there is just no time now with the family life and work. I did play in a local men's league up until last year, but it got too expensive for all the ice time and gear. Every now and again I will find a pick-up game and then quickly find out how wildly out of shape I am. (laughs )
I can totally relate to that! After high school, you studied at University of Rhode Island, where you met Jess, who you have been married to for almost 5 years now. How did you two connect?
Yep, so Jess and I met at URI where we eventually became roommates our senior year. We officially met Junior year, as we both lived in seperate beach houses off campus right down the street from each other. Our groups of friends hung out a LOT since most of them were members of the same academic group (SSA: Student Alumni Association). My other roommate, Armond, and I would crash most of their parties and events so we all became really close friends. Senior year came around and we all decided to live together in another off campus beach house. Yeah, senior year was fun.
Sounds like there was a "beach house" theme going on there. You had some pretty fascinating studies during your college years. Mayan Archeology, Agriculture, and Aquaculture and Fisheries. (I didnt even know that was a thing) How did you go from all THAT into your first post-graduate job, banking at HSBC?
(laughs) Yeah, it's a bit of a weird transition for sure. My logic was this: Business and English majors were two studies I knew I needed as a foundation, and then I could essentially dabble in any other study that I found interesting. And at that time, I wanted to learn a little bit about everything, because I was very much undecided as far as career path for awhile. The fisheries courses were pretty unique to U.R.I. as our campus was right on the water and I always loved fishing and boating with my dad down at the Jersey Shore. I remember one course I took, one of the tests was to navigate Narragansett Bay in a 50 foot trawler blind folded with classmates yelling coordinates to you. Pretty cool now that I think about it. The Mayan Archeology was sort of by accident.
I'm sorry. You need to explain that. How does one fall into Mayan Archeology "by accident?"
Right. (laughs) Well, I always wanted to study abroad but never wanted to miss time at school with my friends, so I signed up for a summer English course in Bath, England. Well, the program fell apart a few weeks prior to me leaving and the school gave me the option to join the Archeology majors on a 3-week trip to Belize. It was amazing to say the least, and I got 12 credits for it. So while it was an accident, it is such a cool society of people, and Im so thankful I got to be a part of it.
That is really awesome. You mentioned leaving the work force years ago for a time, to become a stay-at-home dad. Tell us a bit about your kids, and describe what a typical day was like as a stay at home father.
So I did the banking thing, and then the insurance thing for awhile. I left the insurance industry in 2018, and I knew I wanted to start a new career and embark on something I actually enjoyed doing. I did some soul-searching and came to the conclusion that I didnt want to force a career like I had done with insurance, so I decided to stay home with my (at the time 1 yr old) son, Kenny. We had just moved to our dream home in Groton, Ma (shout out to Pelletier Properties for making that happen) and I made the decision I would enjoy the quality time with my firstborn son while continuing to seek out a career passion. A typical day in the life of stay at home dad would start with me making him breakfast, watching a few shows, reading some books and then trying for a nap.
You or Kenny?
(laughs) I wish it were me, but Kenny. He was not a fan of the napping, though. He was on a two-nap a day schedule I seem to recall, and that was fun. I also always enjoyed going for drives with him or just taking him to the mall to walk around. He has always been a pretty easygoing kid, however, some of those days were definitely harder than a corporate day at the office. Wouldn't trade it for the world though. We just had our second son this past February – 2/20/20. Very cool birthday. His name is Keegan. He sleeps a bit better than Kenny, thank goodness.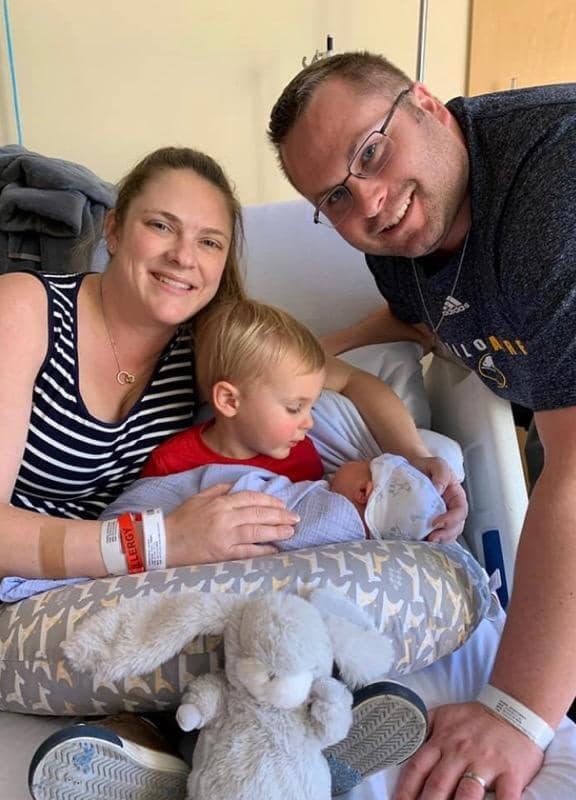 (Above: Ken and family )
You have a beautiful family. So what was it that led you into the world of Real Estate?
I have always had an interest for Real Estate but thought it might be too salesy for me. I love talking to people and building relationships but I never wanted to come off as if I was trying to force them to buy/sell something. I know now this isn't the reality of a career in Real Estate. Pelletier Properties helped Jess and I to sell our first house and buy our dream home. Jess went to school with Josh Mello and knew he was getting into Real Estate during that time. Once I saw how Pelletier Properties handled both transactions, it really drew my interest as a potential career.
You very recently joined our team, Pelletier Properties. What was it that made you want to be part of a team vs. working solo, and why this team in particular?
From day one of getting licensed as a Realtor, I knew Pelletier Properties was the type of team I wanted to be a part of. I saw firsthand how Josh and Nick represented the team when they helped with my familys transactions and I could envision myself working in that environment. I would touch base with Josh for random Real Estate advice. I think I even bugged Nick a few times to see if there was any availability on the team. There are more than a handful of teams at Keller Williams North Central, which is one of the reasons I joined this market center, but no other team seemed as good a fit as Pelletier Properties did.
We are extremely happy to have you aboard. What would you say is one of the biggest myths about Real Estate or Real Estate Agents?
I think the biggest myth about Agents is that we are cut from the same cloth as door-to-door sales people types. I know I believed this myth when I first had an interest but didnt want to be branded as a salesperson. To me, real estate agents are actually quite the opposite. We have to build relationships and rapport with our clients. I view it very similar to an engagement and the wedding date is when you close on a property for them. Each engagement comes with highs and lows, depending on the market, and it is our job to smoothly navigate our customers to their ultimate goal of buying and selling real estate.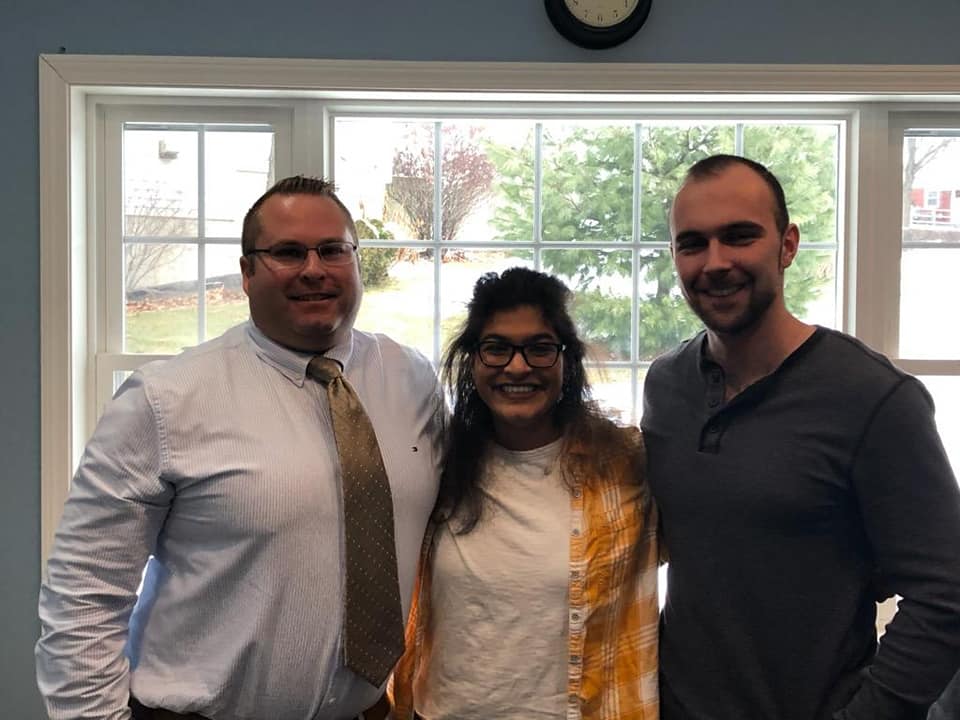 (Above: Ken with his clients)
You are the first ever person to be interviewed by me during a worldwide pandemic. You should feel honored. This is historic. How are you staying sane during the Covid 19 crisis? Are the bad Dad jokes part of it? Is there anything you have learned about yourself or about people in general during this time?
Do I get a prize? How about some CE credits? Yeah, its definitely weird and an uneasy time we are living in right now. This might be the toughest time period of my life, to be honest with you. We just had our baby boy in February, along with a 2 year old running around from sun up to sun down. Im in this new career transition in my life where I have to build my business on my own and be available to my customers when needed. Due to quarantine the daycares are closed and we are unable to allow family and friends to drop by freely for help or simply just to have a fun adult conversation with someone. Balancing my work life and family life through a worldwide pandemic has been a challenge! My wife has been amazing with taking on more responsibility with the pick-up-and-go real estate life, all while on her maternity leave. I think we are both just trying to pull out the joy and humor in each day to get us through this crazy time. My #DailyDadPun Facebook posts are a big part of that mindset. Its been a way for me to connect with my social media friends without bringing any negative news into the picture. Anyone who is reading this , please feel free to follow my awful eye-rolling Dad puns on Facebook!
They are quite awful, and yet, so awful, that they then become brilliant. What is your favorite movie, book, and late night snack?
The Beach , or Garden State. I cant decide.
The Old Man and The Sea.
Taco Bell 4th meal.
A famous person you would love to sit and have dinner with, and why?
Id love to have a beer with Kevin James. We have a very similar sense of humor and I have to know what it was like working with Jerry Stiller (Arthur) on "The King of Queens."
Whats the best piece of advice youve ever received, and who gave it to you?
Work hard, play hard. This is a pretty common phrase but I always think about it while Im working because I am the type of person who looks forward to a fun time but I feel guilty if I dont feel like Ive earned it.
Last question, Ken. If a client of yours was asked about his or her experience in working with you, what would you hope that they say?
I hope all my clients become true friends of mine after our transaction has completed. I know if this is the case, Ive gone above and beyond their expectation – because, honestly, who hires a Real Estate agent looking for a friend? I pride myself on my responsiveness and honesty. I look forward to guiding all representations of clients from First Time Home Buyers to Seasoned Investors and everyone in between, but most importantly, I look forward to all the relationships I will continue to build along the way.
Well, I know that we here at Pelletier Properties are proud to have built a relationship with you, and excited to add you to our team.
And on a personal note, as someone who also got into hockey as a result of someone else's passion for it (my boyfriend), I will end this interview by having the last word in saying very loudly and proudly:
GO BRUINS!!!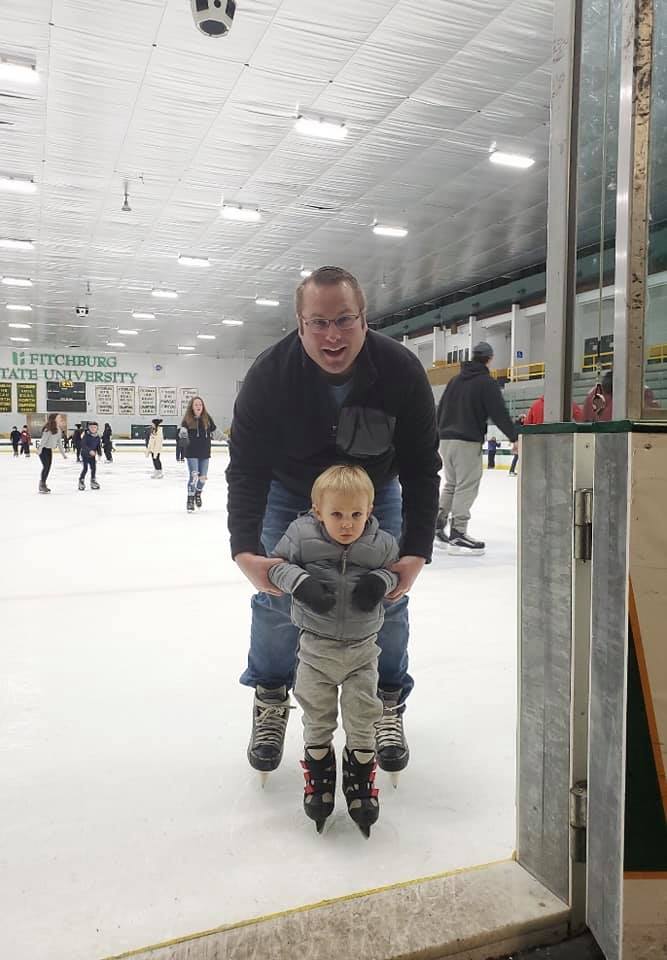 As always, please follow us on all of our social media pages at Facebook (Pelletier Properties), Twitter (@pelletierprops ) and Instagram (@pelletierpropertiesNick). Also, dont miss out on all of the adventures of Teddie the Real Estate dog on her Twitter page (@DogPelletierTed ).
You can check out Ken Ferris and his pretty awful Dad Puns on his Facebook page ( Kenneth Ferris).